Archive | EC&I 832
RSS feed for this section
24
Mar
This week we are asked to blog about what an average day looks like for us in terms of reading and making sense of information, media, and the world around us. We are also asked to explore/reflect on our own personal strategies for analyzing and validating information.
I have to say this prompt has been one that I've struggled with. Dare I admit that my average day does not include reading a newspaper, watching television news, or even listening to the radio?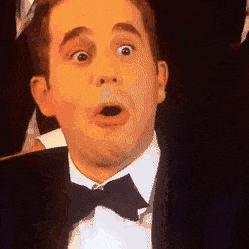 via GIPHY
I know, I know… I should be more concerned with being an informed citizen and with the happenings in the world around me. But to be honest, news media outlets have never captured my attention. I don't usually listen to radio, I hardly ever watch TV (especially cable TV), and I had been fairly dormant on non-social media internet use. I've relied on staff room chatter with co-workers, conversations with friends, and Facebook largely for updating me on big news stories. Once I hear of something that interests, or concerns me, I do investigate on my own, to not only help me make more sense of the information, but also to confirm and legitimize what I have been told. Although I know it seems naive of me to wait for others to maybe spark a conversation or to share an article on Facebook, I don't feel that I naively interpret, believe, or analyze information.
I use Facebook everyday for a variety of reasons, so as a site I visit multiple times a day, it is the place I most often see information being shared. I have recently began using Twitter daily again (thanks to this class!), so this is another avenue in which I am consuming media information most frequently. As I read this week, it is alarming to discover that fake news spreads faster and further on social media sites like Twitter, than any truth does. Soroush Vosoughi, who was one of the researchers in this MIT study of fake news, developed an algorithm for identifying facts and fiction in tweets. Whether the author was verified and the language used were important aspects – and when I think about my own personal strategies for deciphering fact from fiction, these are vital for me.
Often on Facebook, I see people sharing or liking posts for contests or to win giftcards that just don't seem right. Sorry everyone, but I don't think Costco is going to give you a giftcard just for sharing this post. When I look and see how many shares/comments these posts have, I often shake my head. If you actually look at the author of the post, you can easily see that it is not really a large corporation like Costco's Facebook page. Although, for someone who is not media literate, this could definitely be one of many scams that could trick them.
Image found HERE
A big downside to the amount of time I spend on getting information from Facebook or Twitter is that I get very frustrated with political posts, rants, comments, etc. There has obviously been a ton of controversy over politics and fake news – especially with Donald Trump and the U.S.A, and Justin Trudeau has even been a hot social media topic. Linking back to digital health and wellness – like I always do ;), these are the types of posts and things on social media that make my experience negative, whether it is what people are sharing or ignorantly commenting, so I do tend to try and ignore or avoid all political conversation on social media. This sometimes makes it difficult for me to stay up to date on political news, and can become overwhelming when I do want to find truth in this information.
Jocelyn and Jaimie shared some great information about fake news in their vlog. I especially liked the image they included about how to spot fake news. As I was reading/watching, I realized that these are all strategies I use myself.
Image found HERE
I also learned about sites that can help you (and students) validate information such as: Snopes, Politifact, and FactCheck. I have never used these sites before, but I will definitely use these in the future if I am questioning if something is true or false.
Writing this post and reflecting on my intake of media has made me set a goal for myself moving forward. I want to expand beyond the ways I am currently reading information on a daily basis. Rather than just happening to come across something on Facebook or from my coworkers, I am wanting to seek out information. I have created a column on my Tweetdeck to follow the Regina Leaderpost, CBC, CTV news and Global news, to better inform me of what is happening immediately around me. (I wasn't following any of these before). If you have any other suggestions for what media outlets I should follow that would be appreciated!