It is crazy to believe we are already at the midpoint of the semester! Honestly, where has the time gone?! My entire Master's program has flown by, and I still find myself doubting that I will actually be done in a short 6 weeks. I am so excited!! (Below is exactly how Jana and I will be dancing when we're done)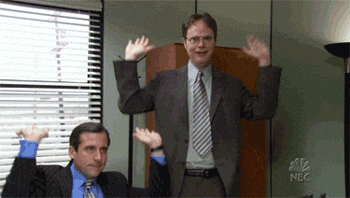 via GIPHY
As I reflect upon my program, it ties into this week's presentation as well as our blog prompt regarding online and blended learning tools and environments. Of my 10 classes, 4 of them have been an online and/or blended format.
Before I started my program, I knew people who completed degrees via distance education programs, and I always thought I could NEVER learn that way. I am too unorganized, scattered, and to be real–a rather large procrastinator. Without a class to go to, or a professor and classmates to interact with, there would be no way I could stay on top of my work and engaged in the material. Through my experiences using Zoom and Google Drive in my EC&I 832, 830, and currently in 833 classes, as well as a blended  EADM course using URcourses which is Moodle based, I have been proven wrong!
I have very much enjoyed my experiences in online and blended classes for a variety of reasons. One of the biggest reasons is that I love the flexibility, and time it frees up in my extremely hectic schedule. Although in my experience most of my classes have still had a mandatory time for synchronized sessions, they have been shorter and I have been able to take part from the comfort of my own home, with my pup curled up on my lap! Literally, how can class get any better?! Although it's hard to focus sometimes with cute puppy dog eyes like these staring at you…
Another thing I have really enjoyed about my online and blended classes is my professors. Not to suck up or anything (okay, maybe kind of), but I have loved learning from and with Dr. Alec Couros for 3 of these courses. He brings an excitement and energy to each and every class on the zoom room, and is also very involved and available to support and help students on Twitter, by email, and in our class Google Plus community. The relationships that he builds with students in an online format is just as important as the relationships any teacher must build at any level of schooling, in any format to be effective.
As I have mentioned in past posts, I am a relationships person and teacher through and through. The relationships I am able to build with my students through our face to face interactions every day are paramount to the level I am able to engage them in my classroom. When I think about how schools and education is changing, I often worry about how my role is going to change, and honestly, how my love for my job might change. Will I still love going to work and meeting students, learning about their lives, and building relationships if there is now a screen between me and those students?
As a graduate student, with a higher level of maturity, and educational experience under my belt, I feel I am more equipped to manage my own learning, and connect to my professors and classmates in an online space. Are high school students able to manage their learning in the same way, and can they make those same connections and thrive without face to face support? I also worry about many of our students who are behind in literacy skills, or who are new to Canada and do not have the same language skills as other peers their age. Student readiness, differing group stages of development, and limited language skills are all reported as limitations of online learning in one study shared as a required reading this week.
In the future I can see more schools offering electives or perhaps advanced placement courses in an online or blended format in an effort to provide more opportunities for students. I can also see the power of online learning for students who are suffering from various health issues or who might be high level athletes training, who would highly benefit from the flexibility of time and place. Tools like Google Classroom are a great start that many teachers, including myself, are utilizing with students that create an online environment and also moves toward a more connectivist approach, as Adam also mentioned in his post.
Although limitations exist, I do see vast benefits in online learning environments, and there are so many tools that I have yet to explore. I am excited for what the future holds in education and the gap that these tools and environments can begin to close. I do hope that relationships will continue to matter for teachers that may begin to shift from the physical classroom to the virtual classroom, as this I truly feel relationships are a vital component of student engagement. I hope to continue to work with students in a face to face manner as I feel that is where my strengths lie, and that there will always be students who need that connection, support, and interaction for at least a portion of their high school career before they are ready to brave the world of online learning on their own.