Each week in EC&I 830 with Dr. Alec Couros, we are taking on a debate topic regarding contemporary issues with educational technology. Myself and my rockstar partners Jana and Kristen were the lucky group to take on the first week's topic of whether technology in the classroom enhances learning, and our stance was AGREE!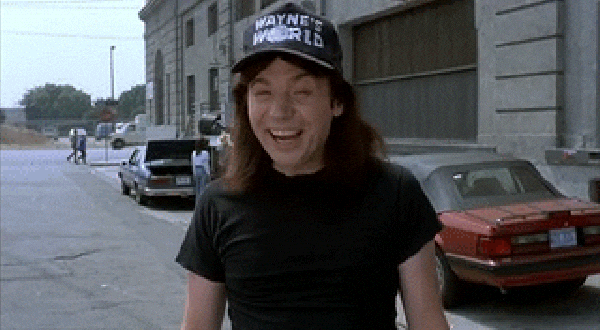 via GIPHY
Agreeing that technology does enhance learning is consistent with my long-time personal opinion, so I was super happy to take on this side of the argument. As a "pro-tech" person, it is easy to say that I agree with this, but to actually convince others and hopefully win (I am very competitive), I felt pressure to put together a solid argument, and understand the big picture of what it means to actually effectively use technology to enhance learning. I truly enjoyed the challenge of researching and developing our opening debate statement, as well as actual in class debate and counter arguments that followed. Kyla, Wendy, and Amy who took on the disagree stance of the debate, did an absolutely amazing job supporting the ways in which technology can be a detriment to learning, and their research and arguments were extremely valid.
When thinking about whether technology enhances learning, I think the most important thing to consider is the role of the teacher. The research and opinions on the disagree side of things often say that technology is being haphazardly thrown into lessons or used ineffectively to do tasks in which it is not actually needed. Technology is a tool, not a replacement for a teacher. Setting up appropriate learning activities and providing guidance, structure and opportunities to use technology to bring learning to a whole new level is a huge part of what teachers do in their classrooms. The SAMR model, is a great way for teachers to consider how they are using technology and to what level it is actually effecting the learning for students.
Image found HERE.
Teaching in a Digital Age: How Educators Use Technology to Improve Student Learning by Katherine McKnight, Kimberly O'Malley, Roxanne Ruzic, Maria Kelly Horsley, John J. Franey & Katherine Bassett was the main research article my group gravitated to as they so perfectly describe the ways in which technology not only enhances learning, but increases student engagement. The article describes in detail how technology:
Improves access
Enhances communication and feedback
Extends purpose and audience for student work
Shifts teacher and student roles
Restructures teacher time
These 5 roles technology plays undoubtedly transforms the ways in which teachers and students are interacting, communicating and learning together.  So many barriers are broken down when traditional roles of not only the student and teacher shift, but also when the 'textbook', materials, output and assessment are vastly improved.
Preparing students for their future education and careers in the 21st century should also be at the forefront of education, and as we've read about Future Work Skills 2020, students need skills like cognitive load management and virtual collaboration, in order to engage in diverse spaces and media they will encounter. One of the arguments of the disagree side was that multi-tasking is detrimental to student learning, and that technology can be quite the distraction for students. Thinking back to my learning and experience in EC&I 832 and a blog post I wrote, schools need to be providing students opportunity to learn digital etiquette, manage distractions, and ultimately  become better digital citizens. If schools do not play this role and provide students a chance to master these skills, how will they ever succeed in the technology driven world around them?
Not only does technology enhance learning in a classroom setting, but technology IS the way students communicate, share, and spend their time. If students are using technology to live so many moments of their lives, we should be seeking to use it to enhance as many moments of their learning as we can.